FatMan – A Compendium of Husky Hand-Drawn Heroes
–Eric 'Capn' Braem for Boomstick Comics
Bryan's recent Boomstick Comics post on Blubberella came with the claim that the obese, Nazi-killing, half-vampire is the first, fat — or at least first, fat, female — superhero.
Scouring my brain, which hurts quite a bit, by the way, I quickly realized that I was never a big comic fanboy. I remember reading some TMNT and I loved the hell out of The Tick, but most of my comic-reading was in the Sunday funny pages. I love me some Calvin & Hobbes. Still, I managed to come up with a few…
Speaking of The Tick, the humor-hero's sidekick and flatmate, Arthur, lightens his pudge with a flying moth suit. The wings never lifted his spirits though, as Arthur is a constant worrywart and whiner. I used to have a toy of this guy, complete with real flapping action!
Kevin Smith's Bluntman was actually originally rather trim in Chasing Amy, but as Smith's waistline has fluctuated over the years, so has Bluntman's. As far as his skills… they involve the ability to perform while stoned and thwart mall security injustices.
Before Bartman was the guy who robbed the Chicago Cubs of a significant playoff out in 2003, he was Bart Simpson's superhero alter-ego. The Batman clone fought bullies in six comic issues, video games and a rap song, all with Bart "Fatty Fat Fat Fat" Simpson's paunch.
One can think of a few reasons our drawn heroes would be trim. First, superheroes usually have a level of sex appeal, so they're often made pretty to look at. The valiant have traditionally been handsome (and in fact getting disfigured often turns good guys into villains), until a recent turning of the tides with hideous protagonists like Shrek.
Another reason is, crime-fighting is a workout! The cop who pulled you over for speeding last week over on Harms Way might make you think otherwise, but he didn't swing from a grappling hook to get nab you, either. Neither did Spider-Kid (or Steel Spider),whose power is his mind. The overweight Ollie Osnick modeled a mechanical suit after Dr. Octopus with villainous intentions, but ended up a good guy after being impressed in a defeat by Spidey.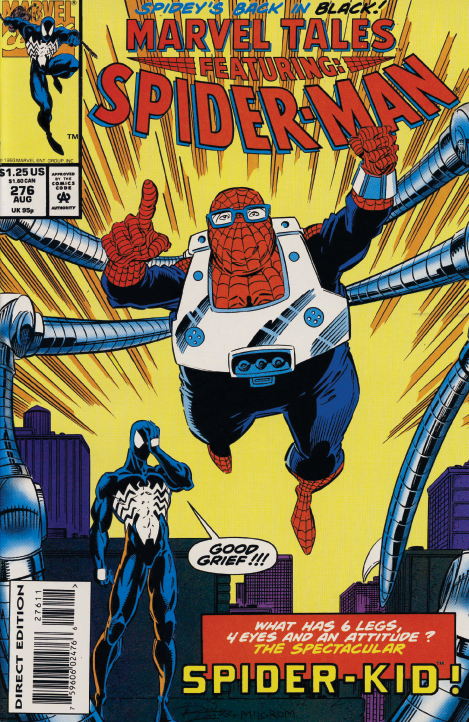 Daniel Dreiberg packed it on after retiring, and Nite-Owl (or Night Owl) doesn't have to trim down much for the Watchmen when he has the flying ship Archimedes and other gadgets. Patrick Wilson was definitely in shape for the 2009 film, though he did put on some pounds for the flashbacks.
Van Crawford may be your average rich, fat guy by day, but when he sips his chocolate drink of alien magic, he transforms into Fatman, The Human Flying Saucer! … Sounds pretty reasonable. He shot beams at foes with the help of sidekick Tinman three issues in 1967.
Bouncing Boy also expands, in this case into giant, spongy ball that can bounce off walls with ease. The word on the street is already-chubby Chuck Taine consumed highly-concentrated fat cells in the soda accident pictured below.
In 2008, Emery Schuab went from being a North Carolina fry cook to Camp Hammer to register as a superhuman and train with The Initiative. Nicknamed Butterball by his drill sergeant, he's seemingly invulnerable to any kind of attack. On the downside, he's mentally slow, weak and fat. Oh well I guess!

Rotund schoolboy Herbie Popnecker has a major lollipop addiction. Lucky for us, he gains all sorts of special powers from them. Ridiculed by his father and teased by classmates, Herbie secretly saves the world from alien invasions as The Fat Fury, offering his tagline, "Gonna bop you with this here lollipop!" Amazing. We're gonna have to check this one out! Luckily it seems we can.
The Fabulous Frogman is Eugene Patillo, who tries to restore the family name by donning his dad's villainous Leap-Frog costume, this time to do good. The chubby amphibian fights evil alongside the aforementioned Spider-Kid and The Toad, using his power of… dumb luck.
A member of The New Warriors — who are unfortunately not associated with cult-classic thriller The Warriors – Microbe can communicate with germs and bacteria. This mutation accidentally led to his father's disgrace in the scientific community and eventual suicide. Zachary Smith, Jr. subsequently fell into a crime-fighting reality-show gig.
Big Boi knows that, "Big girls need love too," or so he says in "I Like the Way You Move," but they're almost non-existent in the superhero game. Almost, Blubberella. You're not quite the first.
Zephyr (You can't make these things up… Well, I suppose someone did) can blimp up and levitate as a member of super-teen group The Harbingers. Faith "Zepplin" Herbert, or Zephyr, has appeared in 63 Valiant comics.
The most famous supermodel in Milwaukee, Ashley Crawford can balloon from a waifish 6-foot, 1-inch, 120 pounds into a 7-foot-4, 750-pound behemoth . With durable, elastic skin and super-strength Big Bertha (of course!) can lift 50 tons and fend off bullets, all in the name of cheesecake– I mean "good."
In summation, let's examine what we've learned. In the world of… comics…    there are two     …     um…    two kinds.. of     ..  ..of..     …   two kinds of…    pie…. Oh god, I'm so hungry! I'm gonna go stuff my face. Be back later.
–Capn
Note: All sources are linked to.
P.S.